Orthodontics is much more than braces or Invisalign. It works because of the patients, the parents, and especially the team. Without a compassionate, knowledgeable team, you may not get the results you want from your orthodontic treatment. We know how vital it is to have an exceptional team. That's why Dr. Murdoch has carefully chosen the team at Ocean's Edge Orthodontics to provide the expertise and camaraderie needed to provide the best experience possible for each patient.
Fun You Can Feel
The Ocean's Edge Orthodontics team is incredibly professional, but they still know when to have fun. They keep the atmosphere in our offices friendly and welcoming while ensuring every patient has exceptional care. It doesn't go unnoticed, with parents of patients frequently commenting on how fantastic our team is. 
"I can't imagine working in a job where I didn't have the fantastic people that I work with," said Dr. Murdoch. "We have a lot of fun, a lot of laughs."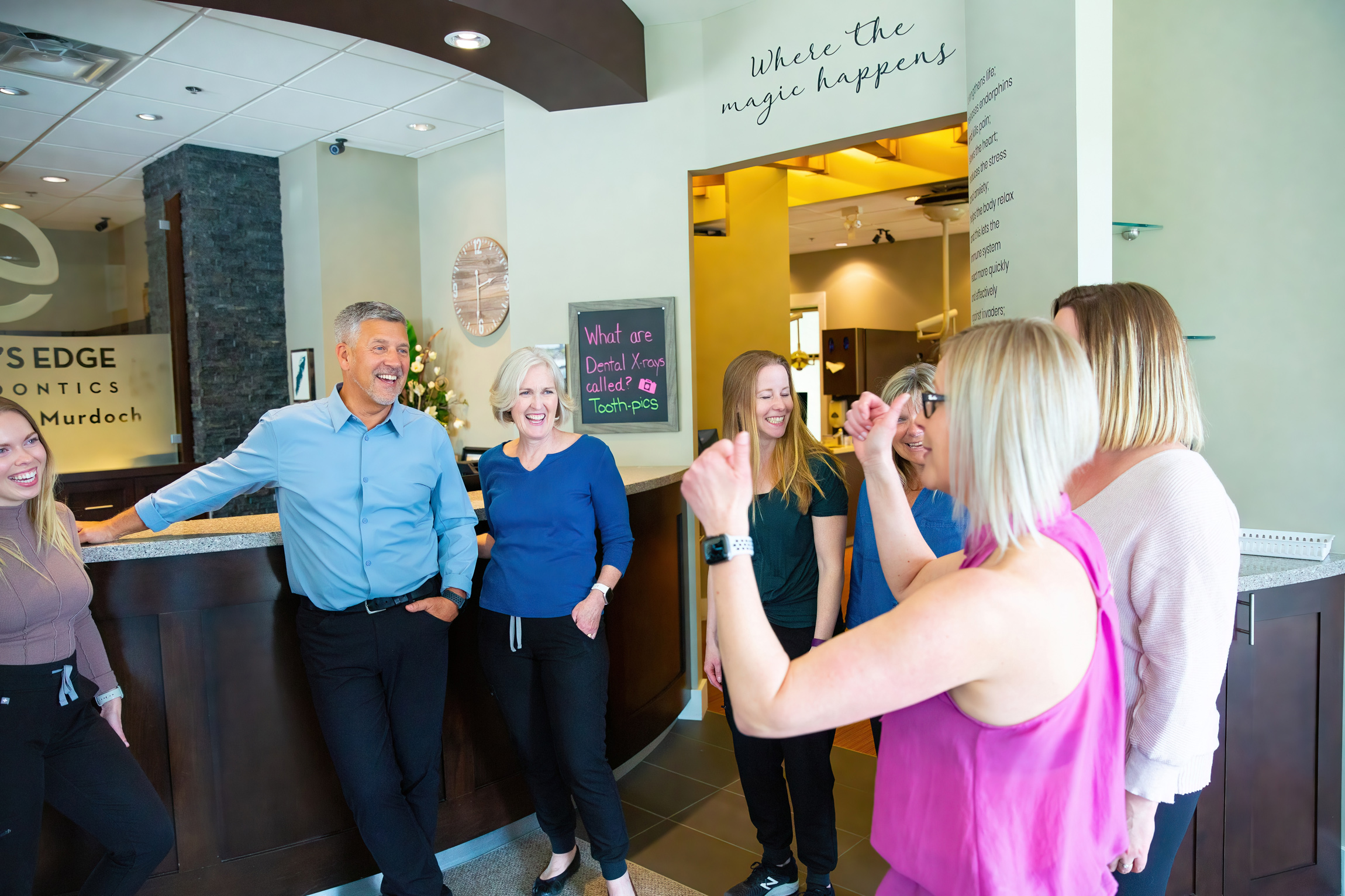 Skilled Professionals Through and Through
Our team knows how to have fun, but they also know orthodontics inside and out. Our team is trained and skilled in all aspects of orthodontic care, and they are there when our patients need us every time. From in-office visits to coaching patients through Dental Monitoring, our staff members serve as guides, mentors, and friends to our patients. They know their jobs, but they also know how to have fun! 
When you walk through our doors, you'll find a community of staff members who truly enjoy what they do. We work hard to cultivate a positive attitude and community feel and to bring our patients into that community. Our team members are busy, but they still know how to have fun!
Caring About Our Patients and Each Other
The Ocean's Edge Orthodontics team cares about our patients, but they also care about each other. They're exceptional at what they do, but that doesn't mean they stop learning. They strive to be better and to show their patients the improvements in orthodontic treatment along the way. As Dr. Murdoch says, "I can trust my team to do it like I would do it." 
Visit Ocean's Edge Orthodontics to see the difference a friendly, professional, amazing team can make to your orthodontic care!